The full name of Kobe Bryant is Kobe Bean Bryant. He was an American professional basketball player. Here we have shared Kobe Bryant quotes about life, love, success, winning, hard work, inspire, family, inspiration, and motivation.
Kobe Bryant was born on August 23, 1978, Philadelphia, Pennsylvania, United States and died on January 26, 2020, Calabasas, California, United States. He spent his entire 20 year career with the Los Angeles Lakers.
Kobe Bryant quotes
"Dedication sees dreams come true." – Kobe Bryant
"Once you know what failure feels like, determination chases success." – Kobe Bryant
"A lot of people say they want to be great, but they're not willing to make the sacrifices necessary to achieve greatness."― Kobe Bryant
"The message was that if you want to win championships, you have to let people focus on what they do best while you focus on what you do best. For him, that was rebounding, running the floor, and blocking shots."― Kobe Bryant
"Trust me, setting things up right from the beginning will avoid a ton of tears and heartache…" – Kobe Bryant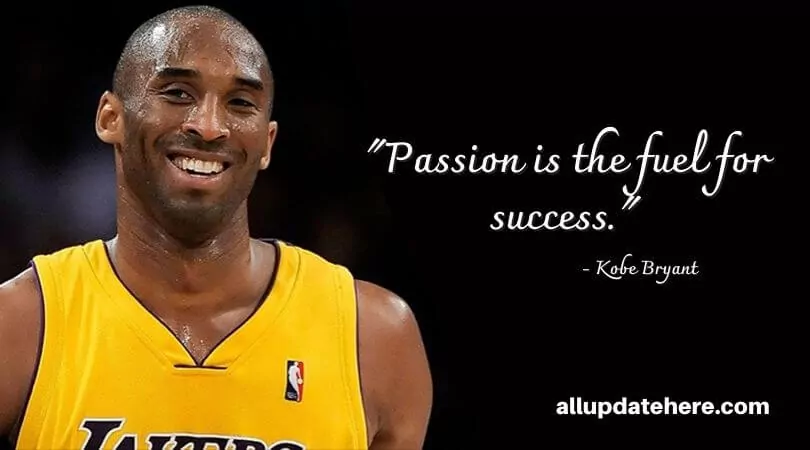 "This is the moment I accept the most challenging times will always be behind me AND in front of me." – Kobe Bryant
"Hi, I'm Kobe Bryant. And I have decided to take my talent to, uh… I have decided to skip college and take my talent to the NBA." – Kobe Bryant
"Be willing to sacrifice anything, but compromise nothing in your quest to be your best." – Kobe Bryant
"I'm not jumping through the gym by any means. But I don't need to be able to do that in order to be a great player." – Kobe Bryant
"We all have self-doubt. You don't deny it, but you also don't capitulate to it. You embrace it."– Kobe Bryant
"I'm not the most patient of people." – Kobe Bryant
"The people who truly know me know what I'm like. There have been people who try to say things that aren't fair, and I check them. And then they don't like me because I checked them." – Kobe Bryant
"The odd thing is that I wound up learning more about the world around me by having a singular focus inside of me." – Kobe Bryant
"Being passive-aggressive in this competition means you're fine with simply going with the flow and unwilling to disturb the calm waters of the game to accomplish your goals." – Kobe Bryant
"I focus on one thing and one thing only – that's trying to win as many championships as I can." – Kobe Bryant
"What does perfection look like to me? Championship rings." –Kobe Bryant"
"I like playing for the purple and gold. This is where I want to finish up." – Kobe Bryant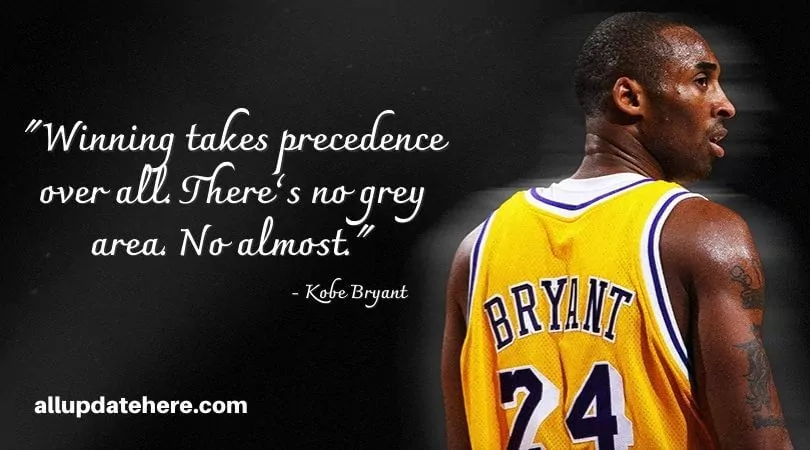 "From the beginning, I wanted to be the best. I had a constant craving, a yearning, to improve and be the best. I never needed any external forces to motivate me."― Kobe Bryant
"We all know what flopping is when we see it. The stuff that you see is where guys aren't really getting hit at all and are just flailing around like a fish out of water." – Kobe Bryant
"The most important thing is to try and inspire people so that they can be great in whatever they want to do." – Kobe Bryant
"Pain doesn't tell you when you ought to stop. Pain is the little voice in your head that tries to hold you back because it knows if you continue you will change. Don't let it stop you from being who you can be. Exhaustion tells you when you ought to stop. You only reach your limit when you can go no further."–Kobe Bryant
"When you make a choice and say 'come hell or high water' I am going to be this, then you should be surprised when you are that. It should not be something that feels intoxicating or out of character because you have seen this moment for so long that…when that moment comes, of course, it is here because it has been here the whole time because it has been in your mind the whole time." – Kobe Bryant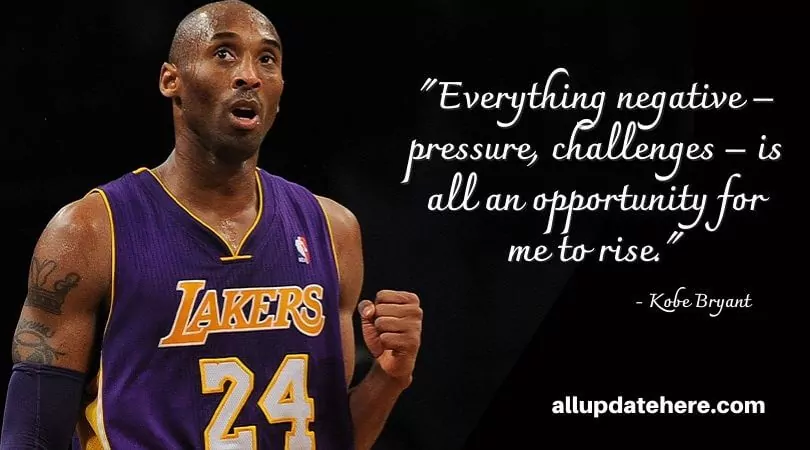 "I played through the sweat and hurt
Not because challenge called me
But because YOU called me.
I did everything for YOU
Because that's what you do
When someone makes you feel as
Alive as you've made me feel." –– Kobe Bryant"
"Everyone looks at your watch and it represents who you are, your values and your personal style." – Kobe Bryant
"I'm here. I'm not going anywhere. No matter what the injury – unless it's completely debilitating – I'm going to be the same player I've always been. I'll figure it out. I'll make some tweaks, some changes, but I'm still coming." –Kobe Bryant
"I don't think a coach becomes the right coach until he wins a championship." – Kobe Bryant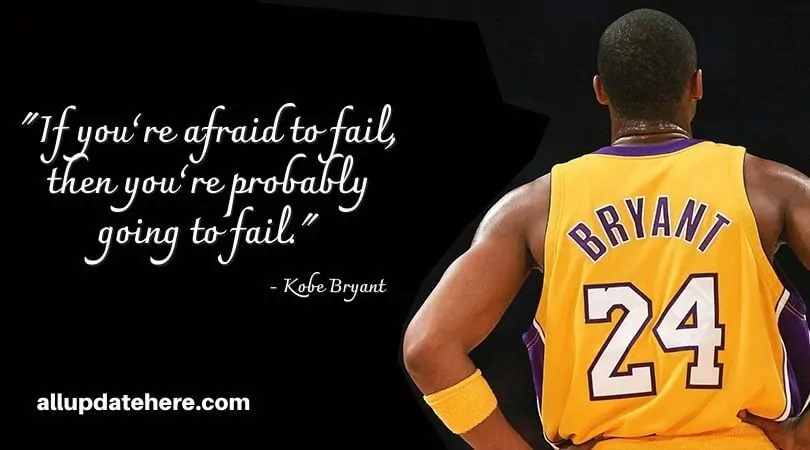 "My role is to make sure we're moving in the right direction, getting points, rebounds, steals, assists and providing leadership." – Kobe Bryant
"If you are going to be a leader, you're not going to please everybody. You got to hold people accountable, even if you have that moment of being uncomfortable."– Kobe Bryant
"I love going one-on-one with someone. That's what I do. I've never lost. It's a whole different game, just to have them right in front of you and be able to do whatever you want." – Kobe Bryant
"I wanna be the best, simple, and plain." – Kobe Bryant
"What people see on the court is another side of me; it's not me." – Kobe Bryant
"The topic of leadership is a touchy one. A lot of leaders fail because they don't have the bravery to touch that nerve or strike that chord. Throughout my years, I haven't had that fear." – Kobe Bryant
"Sometimes I do wonder what college would have been like. But I made my decision." – Kobe Bryant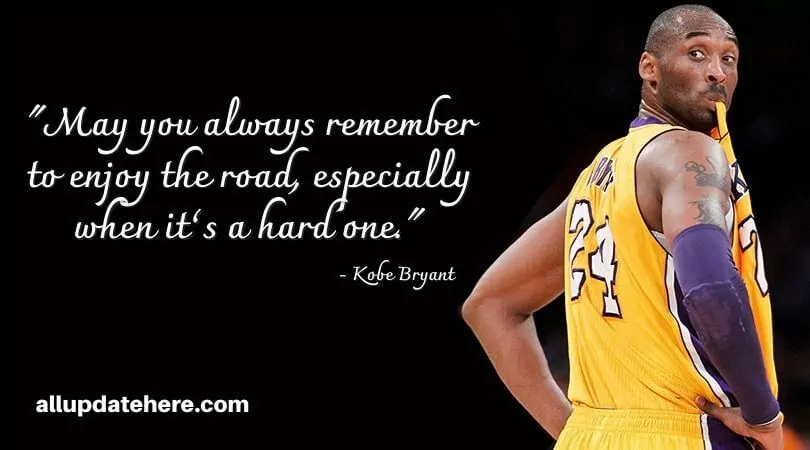 "I just got one more than Shaq. You can take that to the bank … You guys know how I am. I don't forget anything." – Kobe Bryant
"I can't relate to lazy people. We don't speak the same language. I don't understand. I don't want to understand you." – Kobe Bryant
"The Black Mamba collection of watches is me: It is my alter ego, so to speak. As I mentioned before, it is sharp, cutting edge and sleek which are characteristics I try to apply when I'm out there on the basketball court." – Kobe Bryant
"Losers visualize the penalties of failure. Winners visualize the rewards of success." – Kobe Bryant
"I'm reflective only in the sense that I learn to move forward. I reflect with a purpose" – Kobe Bryant
"Everything I saw, heard, read, or felt was viewed through the lens of growing as a basketball player. This perspective makes me curious about everything, makes everything interesting, and means that life is a living library where all I need to do is pay attention." – Kobe Bryant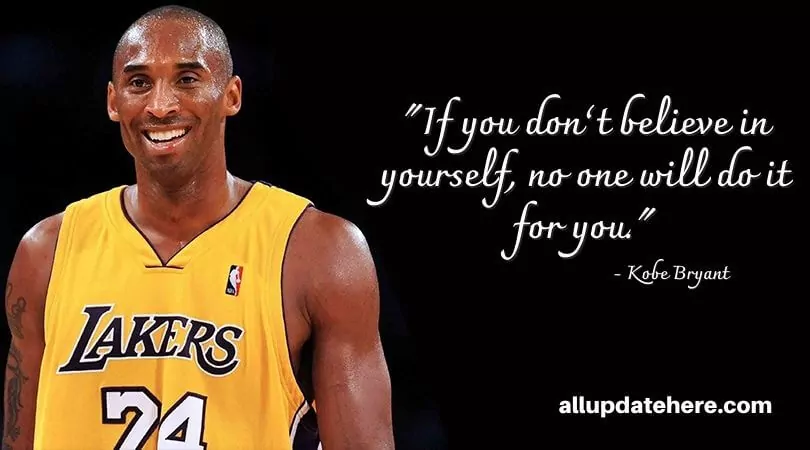 "Are you willing to push the right buttons even if it means being perceived as the villain? I'd rather be perceived as a winner than a good teammate. I wish they both went hand in hand all the time but that's just not reality. I have nothing in common with lazy people who blame others for their lack of success." – Kobe Bryant
"I'm playing against great players, playing against the best in the world. The competition – that's what I've always wanted." – Kobe Bryant
"I'm extremely willful to win, and I respond to challenges. Scoring titles and stuff like that… it sounds, well, I don't care how it sounds – to me, scoring comes easy. It's not a challenge to me to win the scoring title, because I know I can." – Kobe Bryant
"I saw you come in and I wanted you to know that it doesn't matter how hard you work, that I'm willing to work harder than you."- Kobe Bryant
"The important thing is that your teammates have to know you're pulling for them and you really want them to be successful." – Kobe Bryant
"I want to learn how to become the best basketball player in the world. And if I'm going to learn that, I gotta learn from the best. Kids go to school to be doctors or lawyers, so forth, and so on and that's where they study. My place to study is from the best."- Kobe Bryant
"It doesn't bother me at all. Do I hold any hard feelings? Not at all. Life is too short to sit around and hold grudges. I don't hold any whatsoever." – Kobe Bryant
"I don't want to be the next Michael Jordan, I only want to be Kobe Bryant." – Kobe Bryant
"There's been a lot of talk of me being a one-man show but that's simply not the case. We win games when I score 40 points and we've won when I score 10." – Kobe Bryant
"I'm chasing perfection." – Kobe Bryant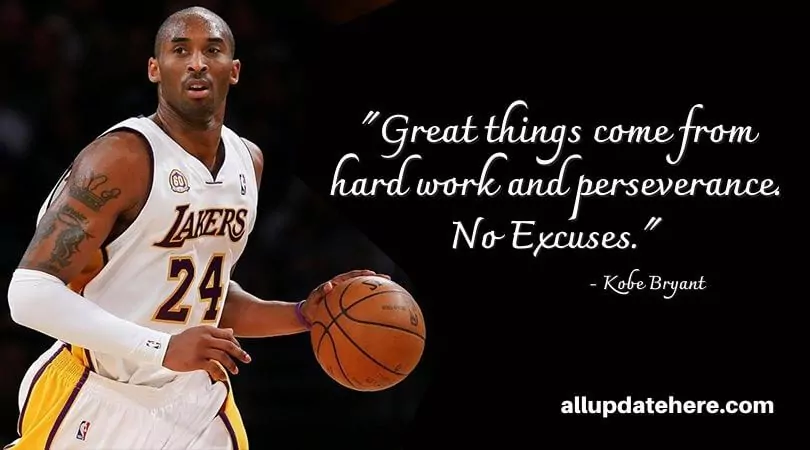 "I have self-doubt. I have insecurity. I have fear of failure. I have nights when I show up at the arena and I'm like, 'My back hurts, my feet hurt, my knees hurt. I don't have it. I just want to chill.' We all have self-doubt. You don't deny it, but you also don't capitulate to it. You embrace it." – Kobe Bryant
"To be an event, every single night. Something witnessed. Not just watched. I had a different drive. The kind that made people uneasy. Some people wanted me to come back down to earth. To come down to their level. To relax. But I couldn't. It wasn't in my DNA. Because to go where others have never gone, you have to do what others have never done."– Kobe Bryant
"These young guys are playing checkers. I'm out there playing chess." – Kobe Bryant
"Either way, I refuse to change what I am. A lion has to eat. Run with me or run from me." – Kobe Bryant
"I create my own path. It was straight and narrow. I looked at it this way: you were either in my way or out of it. If you were standing between me and the game, I was going to knock you on your back and not feel bad about it. I was unapologetically me. That's all I ever wanted to be I was never worried about my reputation- that's how I earned one. That's how I became the Black Mamba." – Kobe Bryant
"The beauty in being blessed with talent is rising above doubters to create a beautiful moment." – Kobe Bryant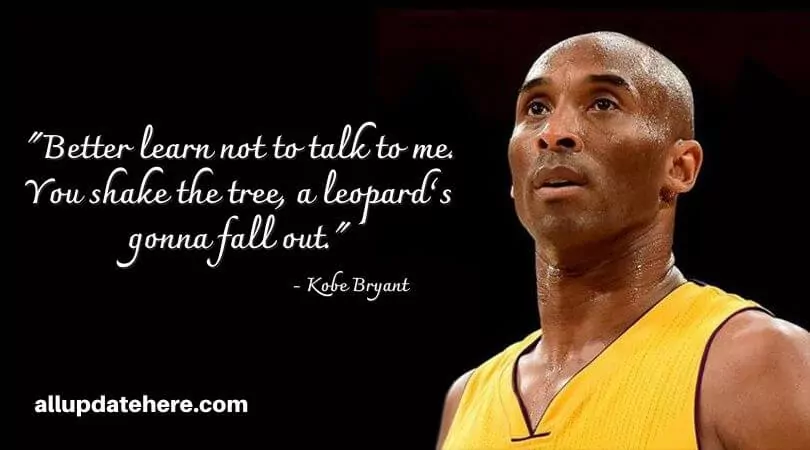 "Determination silences doubters." – Kobe Bryant
"Sports is such a great teacher. I think of everything they've taught me: camaraderie, humility, how to resolve differences." – Kobe Bryant
"I remember feeling the silence. I remember feeling the fear. I'm like, 'This could be a wrap.' And that's what the silence was. It was like, 'This could really be a wrap for you.'" – Kobe Bryant
"My parents are my backbone. Still are. They're the only group that will support you if you score zero or you score 40."- Kobe Bryant
"If I wanted to play, I'd still be playing for the Lakers. The health thing I could've figured out…I just don't want to play anymore." – Kobe Bryant
"After all, greatness is not for everybody."― Kobe Bryant
"I saw things differently. I didn't want to do what others had done. That didn't drive me, didn't get me in the gym before others got up. I wanted to do one better. Actually, I wanted to do a lot better. There were players I looked up to until I looked them square in the eyes. I know that one day when I left the game, I didn't actually want to leave. I wanted to leave my mark." – Kobe Bryant
"There are certain players that I've made cry. If I can make you cry by being sarcastic, then I really don't want to play with you in the playoffs." – Kobe Bryant
"Only an idiot would doubt my return." – Kobe Bryant
"I'll do whatever it takes to win games, whether it's sitting on a bench waving a towel, handing a cup of water to a teammate, or hitting the game-winning shot." – Kobe Bryant
"The most important thing is you must put everybody on notice that you're here and you are for real. I'm not a player that is just going to come and go. I'm not a player that is going to make an All-Star team one time, two times. I'm here to be an all-time great. Once I made that commitment and said, 'I want to be one of the greatest ever', then the game became everything for me." – Kobe Bryant
"It's hard for me to grasp the concept of somebody being nervous when I'm talking to them." – Kobe Bryant
"The biggest dreams aren't fueled by belief. They're fueled by doubt." – Kobe Bryant
"People just don't understand how obsessed I am with winning."- Kobe Bryant
"We psyche ourselves up too much. Like if you try to talk yourself into, 'Oh, this is a big moment, this is a big shot,' you're putting a lot of pressure on yourself. You shot that shot hundreds and thousands of times. Just shoot another one."― Kobe Bryant
"The last time I was intimidated was when I was 6 years old in karate class. I was an orange belt and the instructor ordered me to fight a black belt who was a couple of years older and a lot bigger. I was scared s—less. I mean, I was terrified and he kicked my ass. But then I realized he didn't kick my ass as bad as I thought he was going to and that there was nothing really to be afraid of. That was around the time I realized that intimidation didn't really exist if you're in the right frame of mind." – Kobe Bryant
"I've shot too much from the time I was 8 years old. But 'too much' is a matter of perspective. Some people thought Mozart had too many notes in his compositions. Let me put it this way: I entertain people who say I shoot too much. I find it very interesting. Going back to Mozart, he responded to critics by saying there were neither too many notes or too few. There were as many as necessary." – Kobe Bryant
"What a journey this has been. Setting this mark is a huge honor. I'm aware of Father Time's curfew. He has sent me to my room to brush my teeth before he tucks me in, but I wouldn't be me if I didn't walk to the bathroom slowly. I wouldn't be me if I didn't act as if someone misplaced the toothpaste. I wouldn't be me if I didn't brush every tooth twice, brush my tongue three times, floss until my gums bleed and rinse with mouthwash until the inside of my mouth burns and then goes numb." – Kobe Bryant
"When we are saying this cannot be accomplished, this cannot be done, then we are short-changing ourselves. My brain, cannot process failure. It will not process failure. Because if I have to sit there and face myself and tell myself 'you are a failure,' I think that is almost worse than dying"– Kobe Bryant
"You need to figure out a way to invest in the future of your family and friends. This sounds simple, and you may think it's a no-brainer, but take some time to think about it further. I said INVEST. I did not say GIVE." – Kobe Bryant
"Learn to love-hate. Embrace it. Enjoy it. You earned it. Everyone is entitled to their own opinion and everyone should have one about you. Haters are a good problem to have. Nobody hates the good ones. They hate the great ones." – Kobe Bryant
"It's the one thing you can control. You are responsible for how people remember you—or don't. So don't take it lightly. If you do it right, your game will live on in others. You'll be imitated and emulated by those you played with, those you played against, and those who never saw you play at all. So leave everything on the court. Leave the game better than you found it. And when it comes time for you to leave, leave a legend." – Kobe Bryant
If you love Kobe Bryant quotes please feel free to share this post with your friends.